Quick Navigation:
Overview
Today we'll look at the Cub Cadet LT42 with a 547cc Fuel Injected Engine. The EFI (electronic fuel injection) is usually not found on mowers in this price range and as of now, is still fairly uncommon on lawn mowers. There are a lot of advantages to EFI over carbureted engines but we'll cover that below.
Riding Comfort
For this class of riding mowers we're looking at a pretty typical setup as far as comfort goes. You have a seat that adjusts forward and backwards. The steering wheel is a soft touch grip, which is nice for long afternoons of mowing. One nice thing about the steering wheel is they made the bottom of the steering wheel flat so it is a little bit easier to get on and off the mower.
The mower also comes equipped with a cup holder and cruise control.
Some of the newly designed comfort features like upgraded seat springs and steering wheel and overall design changes can be viewed in this video:
Engine
The 547cc fuel injected engine is really what makes this mower something special. You don't see EFI engines in lawn mowers much these days but I suspect over the next several years they will start to dominate. It will be like cars where everything moves in that direction.
This is a Cub Cadet OEM branded engine. As far as I can tell it is made by Zongshen in China which is an MTD factory. For those that don't know, MTD owns Cub Cadet amongst many, many other well known companies.
547cc equals roughly 17 HP of power which considering the efficiency of the fuel injected single cylinder engine should be enough to run this 42″ mower.
Speaking of the efficiency of the EFI in this Cub Cadet riding mower, what are some other advantages of having a fuel injected engine?
Push button starting, you do not have to operate a choke. Just start and go.
You will get better performance and better fuel efficiency. The perfect air/gas ratio is always delivered so there is no waste. It is estimated that 25% of gas is wasted in a carbureted engine.
Using ethanol free gas is not an issue, you won't gum up anything like with a carburetor.
Better emissions control. With the efficiency also means less pollutants are emitted.
The gas tank fill is located on the left side of the mower so you don't even have to open the hood to refill, which is nice because I always hate refilling gas around a hot engine.
All of this is backed by a 3 year unlimited residential warranty with a 5 year warranty on the chassis and front axle and a lifetime warranty on the deck shell. This is a very generous warranty over the standard 2 years you see on almost every mower.
Click here to see if you have a Cub Cadet dealer nearby
Click here to read the full warranty for the Cub Cadet LT42
Service Manual For Cub Cadet LT42
Mower Handling and Performance – Hills/Rough Terrain
WARNING: You should always follow the manufacturer's recommendations for mowing hills, usually that means don't mow a slope over 15 degrees. Try to attack the slope in an up and down manner instead of side to side (if you have to lean halfway off the mower to feel stable you're probably exceeding recommendations!)
As far as performance goes, this mower seems adequate for just about any terrain type. It's got enough power to handle hills and slopes. It has decent weight at 580 lbs and rides on 20″ tires in the back and 15″ up front.
The transmission in the Cub Cadet LT42 is the dreaded Tuff Torq K46, which is not serviceable. If you've read my other reviews like the John Deere E180 you'll probably remember that I didn't have such nice things to say about the K46. The difference here is that the K46 is actually sized appropriately for the application. A 42″ deck and ~17 HP mower should be a good ideal combination that doesn't tear a K46 to pieces. So I really have no problem with it being used in a mower like this.
For those of you looking to fit this through a gate, here are the measurements you need to know: (46″ wide with the chute up, 52″ wide with the chute down and 56″ wide if you want to use the bagger attachment.)
The turning radius is 16″ which in simple terms means if you started cutting grass with your steering wheel turned all the way in one direction and you made a circle, that circle would be 32″ wide (or a 16″ radius…1/2 the width of the circle.) This turning radius is about what you'll find on most riding mowers of this size.
This Cub Cadet LT42 mower is ideal for properties sized from 1/2 acre to 2 acres. You can mow at 5.5 MPH going forward and only 2.5 MPH while mowing in reverse.
Quality of Cut
You have a pretty standard deck adjustment in 1/4″ increments from 1″ to 4″ controlled by a lever on the right side fender of the operator.
The two blades are engaged by a lever PTO and 4 anti-scalping wheels (2 in the front and 2 in the back) are looking to protect your lawn. I've always wondered why you don't see more anti-scalping wheels on the back of decks because it seems like such a good idea to me. I have a few spots on my property that are uneven from installation of a water line where the terrain changes suddenly and I always wind up scalping those areas unless I can quickly raise the deck up. If I had two scalping wheels on the back I don't think that would happen nearly as often.
You are able to mow in reverse, even though it is only at an agonizingly slow pace of 2.5 MPH.
No reports of the engine bogging down in tall grass and overall everyone really likes the cut it produces.
Optionally, you can get a mulching kit if you so desire.
Accessories
There is no shortage of accessories you can get for the Cub Cadet LT42 riding mower. As you can see from the picture below, you have your pick of a spreader, lawn cart, a bagger, a snow blade, a snow blower, a sun shade, etc, etc. This list goes on.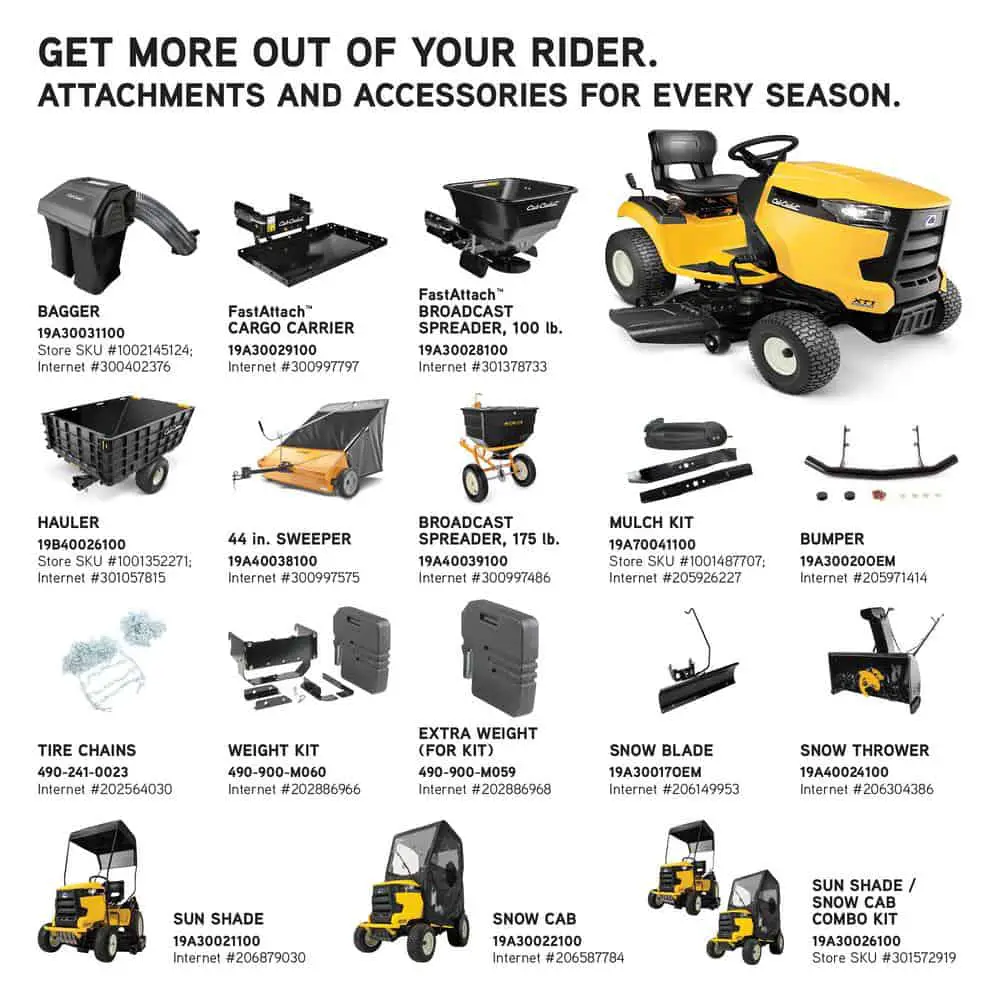 Conclusion
It is important to note a couple things:
1. This unit does not have bluetooth installed, even though it does make mention of it in the title on the store's page, which is a bit misleading. You can, however, buy the Cub Cadet Bluetooth Module and easily install it yourself if that is something you think you'd like. It would be handy for keeping track of maintenance. The Cub Cadet LT42 does come standard with an hour meter though.
2. If/when you read through reviews for this particular mower, they are lumped in with other XT 1 series models with different engines. A lot of the reviews refer to a Briggs and Stratton or Kohler engine but this has the Cub Cadet branded engine. Something to keep in mind, whether the reviews are good, bad or otherwise.
Now, having said that, I think there is a lot of value here. Some might think the price is a little high for a 42″ mower but I think you will make up a lot of money in fuel savings with the fuel injected engine.
For a small to medium sized yard I think this would be a great mower.
Affiliate Disclaimer – if you decide to purchase a mower based on my review, I do get a small piece of the sale at no additional cost to you. It helps to keep the lights on around here.