Quick Navigation:
Overview
The Cub Cadet CC30H 30 in. hydrostatic riding mower is a similar model to larger Cub Cadet riding mowers but on a compact frame to fit through areas like gates and in smaller storage doorways. This model has just a couple of minor matters of concern. Let's get started picking apart the specs!
Riding Comfort
Because of the step-through body design, the CC30H with a rear engine looks more like a golf cart than your typical mower. The driver's seat is ergonomically made so that it is super comfortable to ride around on. There are even a handful of positions to adjust the seat.
It bears mentioning – this mower's structure and body mostly looks to be made of plastic. Some people are turned off by that fact. Aside from a few reviewers breaking a plastic seat or the steering wheel over time and with prolonged use, this mower's design is structurally fine.
If you are shorter or have shorter legs, a few people referenced that it may be somewhat harder to use the pedals. When reaching for the pedals, remember to stay in your seat or the engine will automatically shut off for safety reasons.
Engine
This Cub Cadet model has a 382cc rear engine putting out about 11.5 HP. Some consumers appreciate rear engines simply because you can see what is below you and up front a little easier – less path obstruction.
Many people report having issues performing oil changes on the CC30H. It is a poor set up because if not careful, the oil could easily drain all over the mower.
I would suggest possibly buying a drain tube to help the oil change process be less messy. Several others had a hard time finding the oil drain plug in general.
The image below will highlight where the oil drain plug is on the CC30H.
Here are some general maintenance items: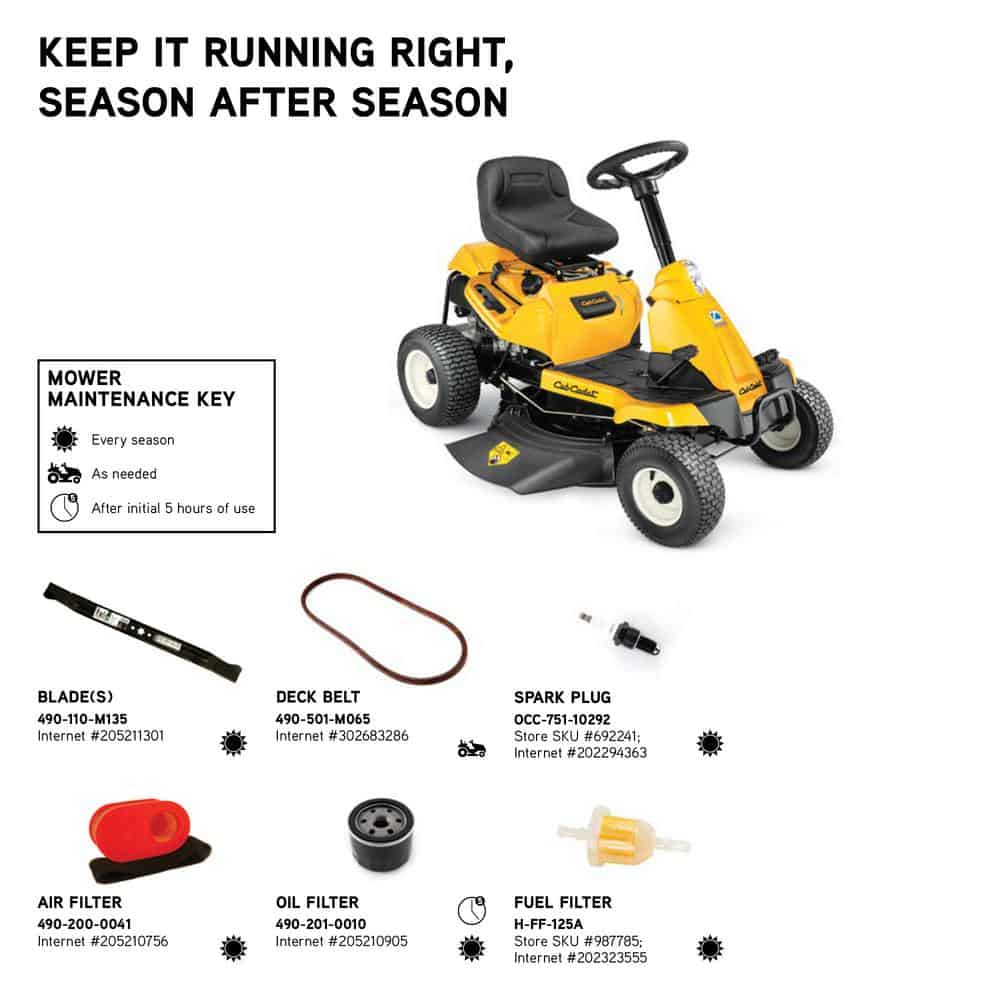 Click here to read the full warranty
Service Manual
Mower Handling and Performance – Hills/Rough Terrain
WARNING: You should always follow the manufacturer's recommendations for mowing hills, usually that means don't mow a slope over 15 degrees. Try to attack the slope in an up and down manner instead of side to side (if you have to lean halfway off the mower to feel stable you're probably exceeding recommendations!)
For a smaller Cub Cadet mower, the CC30H 30 inch still rides similarly and mows okay compared to the larger Cub Cadets. It has the ability to maneuver around compact and tight areas because of the smaller size, but the 30 in. single blade mowing deck isn't going to give you a super fast or wide mow.
This mower weighs in modestly at 340lbs and can handle a half-acre to possibly 2 acres. The fuel tank can only hold 1.3 gallons of gas, which is not a lot at all, but you shouldn't have an issue if mowing a small yard.
Because it is light weight-wise and the wheels are on the smaller side, some have had issues with traction going up and down a bit steeper grades of hill. As with all riding mowers, I definitely wouldn't recommend trying it on anything near or over a 15% grade slope. Also, while many people like the turn radius, others made note to take turns slowly for fear of tipping over.
It can also mow in reverse if you follow the owner manual's instructions correctly. This seems to be a favorite in many reviews, but there are warnings in the manual stating reverse mowing is not recommended.
Quality of Cut
Keep in mind because of the smaller design and 30" narrow 13 gauge deck and cutting width you won't be cutting large yards in short amounts of time. This Cub Cadet rear engine model excels more when used for cutting smaller more level yards.
If you have a fear of scalping your yard and do find yourself mowing over any fairly uneven spots, it is recommended to mow at a cutting height of 3" or sometimes even 4" with this CC30H riding mower because there are no anti-scalping wheels.
Accessories
This CC30H riding mower does come with some accessories. The deck wash and mulch kit are both included. Many people rave specifically about how well it mulches.
Also, there is a spot on the rear of the CC30H where you are able to add attachments like a spreader. Because of the size of this mower, this built-in hitch is not really for heavy-duty hauling and towing. Keep in mind, this Cub Cadet can carry up to 350-400lbs of weight total.
Accessories and attachments like a spreader are sold separately. Some consumers mentioned that to attach a tow can be a pain due to the underside-mounted bolts. If you decide to add a bagger system, that could widen the mower.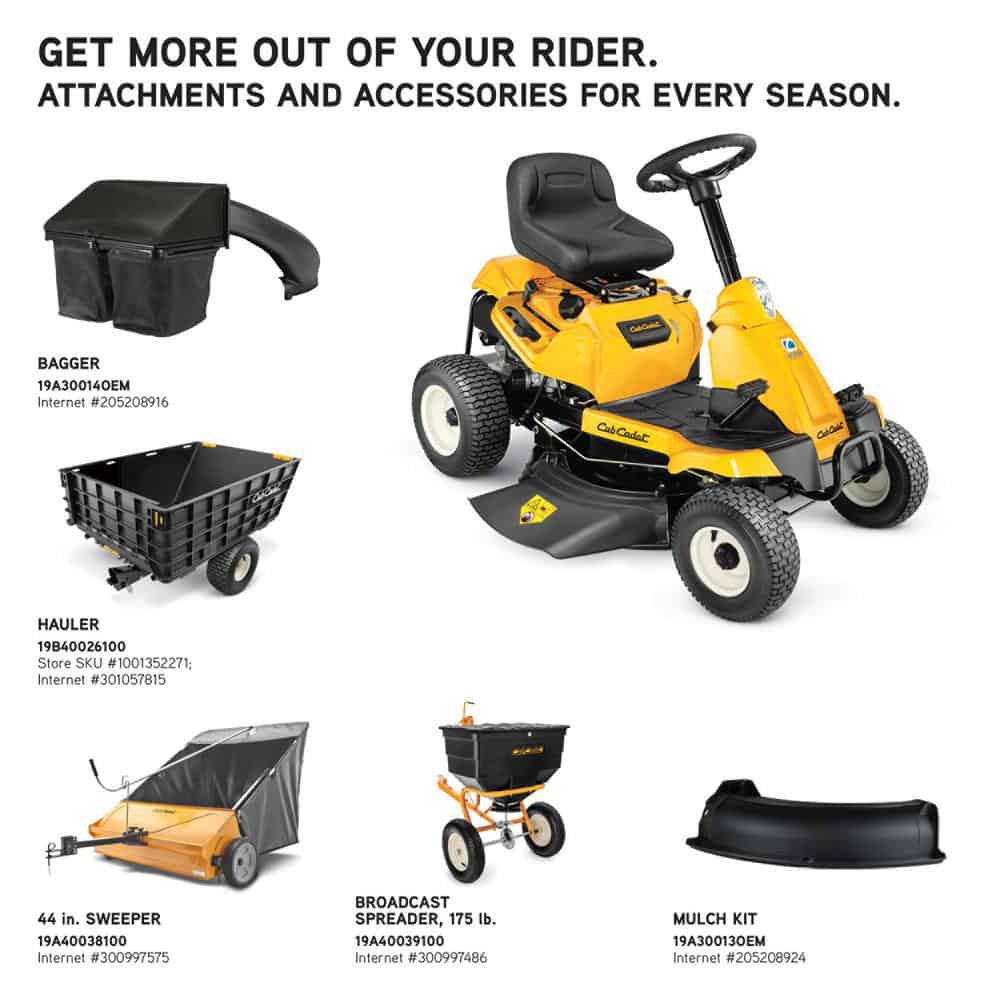 Conclusion
If you have a more or less flat lawn and are looking for a decent mower that fits around obstacles or through something like a gate, this little guy really seems to do the trick. It has pretty good ratings overall and will obviously shorten the time it would take to mow your residential lot with a push mower.
It has plenty power for its size. At the end of the day, I'd say the majority of its shortcomings are easy to get past for most. Consumers are especially pleased with the features and machine's ease of use. If you have a larger yard to mow or have some steep hills you might want to go with something more like this 46″ Poulan Pro mower.
Affiliate Disclaimer – if you decide to purchase a mower based on my review, I do get a small piece of the sale at no additional cost to you. It helps to keep the lights on around here.