Quick Navigation:
Overview
This Troy-Bilt Bronco 42″ riding mower model has been out for quite some time (over 10 years) – that should be long enough to work out all the bugs, right? Let's see what we find when we take a deeper look at this lawn tractor.
Riding Comfort
The Troy-Bilt Bronco has a normal backed seat which will not offer much comfort while mowing anything other than flat ground.
Outside of that, not much, there is a cup holder and headlights for mowing at dusk or dark. Why though?
Engine
A Briggs and Stratton 19HP Intek 540cc Mower powers this mower. For a 42″ mower this isn't too bad of a size and should offer plenty of power.
There is a 1.3 gallon gas tank on this model, which in my opinion is a little on the small side. I would prefer 2+ gallons, but this engine is a bit more efficient due to the drive train which we'll cover in the next section.
Click here to read the full warranty on the Troy-Bilt Bronco 42″ Riding Mower
Service Manual for the Troy-Bilt Bronco 42″ Lawn Tractor
Mower Handling and Performance
WARNING: You should always follow the manufacturer's recommendations for mowing hills, usually that means don't mow a slope over 15 degrees. Try to attack the slope in an up and down manner instead of side to side (if you have to lean halfway off the mower to feel stable you're probably exceeding recommendations!)
This is a complicated section. As the Troy-Bilt Bronco does not use a hydrostatic transmission there are a lot of users that have an issue with that.
The Bronco is equipped with a CVT transmission. Continuous Variable Transmission. A variation of CVTs are often used in some cars. They offer better power transfer to the wheels and a smooth ride.
Here is a video that explains in a bit more detail how a CVT operates (Note: nothing in this video is from a lawn mower, it is the principle of it I'm trying to show.)
The downside to this setup is this acts more like a manual transmission in some ways. You have to manually select forward/neutral/reverse.
The thing is, mowing in reverse is not an easy process at that point. You have to now shift from forward to reverse every time you want to back up. If you want to mow in reverse you also have to hold down a button on the dash.
Outside of that, fairly standard items elsewhere. 15″ tires up front and 20″ tires in the rear. The mower turns on an 18″ radius.
This riding mower will barely fit through a 48″ gate (will be very tight.) Something to keep in mind if that matters to you.
Quality of Cut
Nothing too special here. A lever engages the belt driven two blade spindles in the 13 gauge stamped steel 42″ deck that will chop your grass down to the perfect height. Speaking of height, there are 5 adjustments (another lever) from 1.25″ to 3.75″.
Two anti-scalping wheels will try to keep your grass safe and sound from the evil scalp monster.
Everyone seems quite pleased with the cut this offers. Seems to be no problem with taller grass either.
One thing to note that seems to have plagued this mower since the start, there are a lot of reviews mentioning a bad deck vibration. Kind of seems like something is out of balance somewhere. Maybe 5-10% of reviews mention this. However, there are several hundred positive reviews either so this seems to be a smaller problem, but yet keeps occurring for some reason.
Accessories
The Troy-Bilt Bronco Riding Mower comes equipped with a standard garden hitch so you can hookup most of your garden accessories such as a trailer, spreader, sprayer, etc.
There is also a long list of available attachments for this mower, such as:
Bagger Attachment 19A30031OEM
Mulching Kit 19A700410EM
Sun Shade 490-900-0067
Snow Blade 19A300170EM
Snow Blower OEM-190-032
Weight Kit 490-900-M060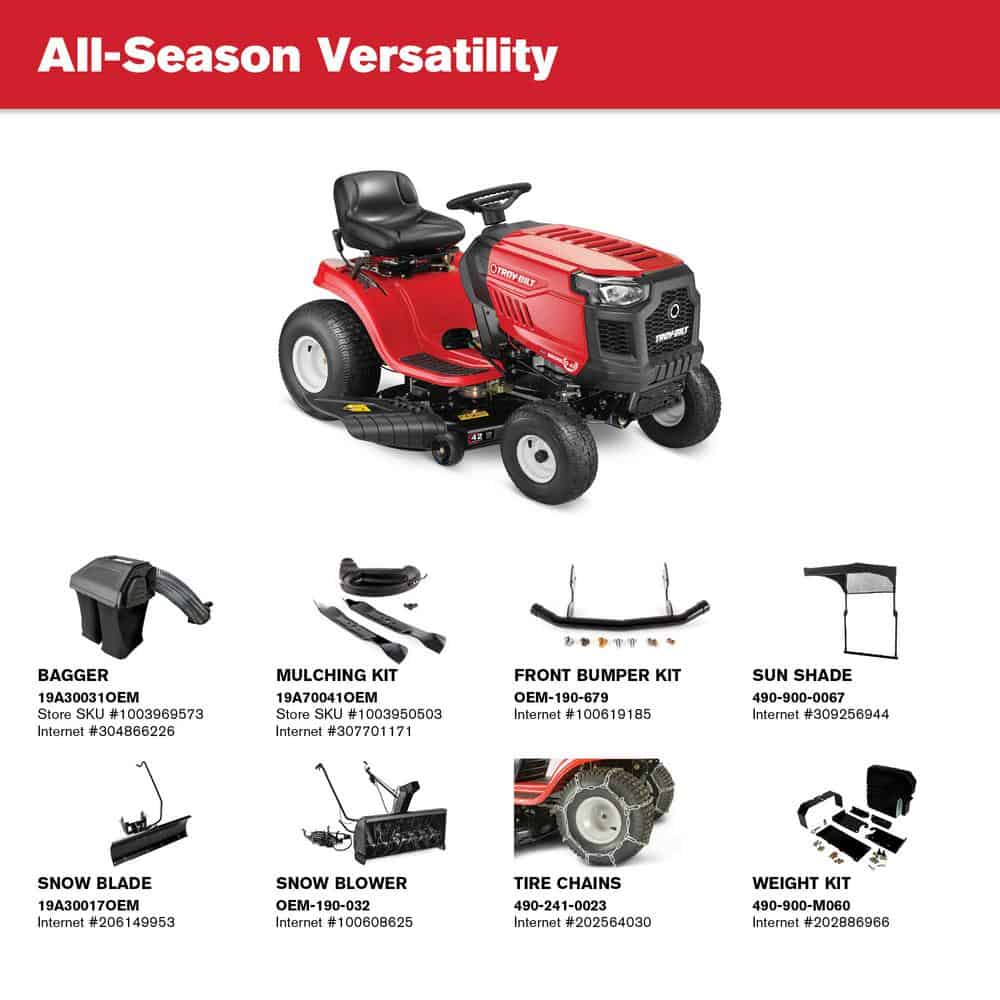 Conclusion
I really like the wide assortment of attachments available for this mower. I could really see this being an all in one lawn tractor.
The deck vibration is a bit concerning to see mention so many times over the years.
The other thing you'll need to consider is if you want the "manual" transmission setup more so than a hydrostatic type of transmission.
Affiliate Disclaimer – if you decide to purchase a mower based on my review, I do get a small piece of the sale. It helps to keep the lights on around here. I am very passionate about lawns and mowers and offer my unbiased review towards everything that goes on this site. I research several pages, specs, videos, forums and other reviews of each mower before I post about it so you don't have to. If I wouldn't buy it myself, I wouldn't recommend it to you either.

– Brandon