Quick Navigation:
Overview
As is becoming ever so popular these days, manufacturers are starting to release battery operated companions to some of their more popular models. Enter the Cub Cadet CC30E mower which is the battery powered sibling of the Cub Cadet CC30H Gas Powered Riding Mower.
With this mower being a fairly new release to the market, it's fair to wonder if this mower is an improvement on the widely popular CC30H?
Riding Comfort
Something nice to see on this mower is arm rests! The arm rests can swivel up and out of the way if you don't like them. Why isn't this just standard on every mower?
The high back seat allows you more visibility of your surroundings.
Outside of the nicer seat, there really isn't any suspension on this mower so keep that in mind if you have a rough yard. This is best suited for gentle laying properties.
In addition to the seat the Cub Cadet CC30E offers a cup holder, USB charging port and cruise control.
EngineBattery
There are not too many riding mowers using lithium ion technology yet (others still mostly using the lead acid batteries) because it is very expensive still. Lithium Ion batteries are generally regarded as being better because they can hold more charge capacity in the same footprint as a lead acid battery. They can also discharge more power without hurting the battery. And they also have a much longer overall lifespan if not abused.
Using a 120v charger the battery can fully charge in 4 hours and can also be used partially charged if needed.
The batteries are covered under a 4 year warranty while the rest of the mower is covered under a 3 year warranty.
Click here to read the full warranty on the Cub Cadet CC30E Battery Powered Mower
Service Manual For Cub Cadet CC30E Lithium Ion Riding Mower
Mower Handling and Performance
WARNING: You should always follow the manufacturer's recommendations for mowing hills, usually that means don't mow a slope over 15 degrees. Try to attack the slope in an up and down manner instead of side to side (if you have to lean halfway off the mower to feel stable you're probably exceeding recommendations!)
The Cub Cadet CC30E Electric Riding Mower sits on 13 inch front wheels and 16 inch rear wheels.
I do think that will lead to some traction issues especially if your grass is slightly wet or hilly.
The CC30E weighs 380 lbs which is actually slightly more (about 40 lbs) than the gas model CC30H with an actual engine.
Max forward speed is 5MPH and 4 MPH in reverse.
One thing I don't like about the mower is the mow in reverse function. You have to hold a button down to mow in reverse it is not as simple as just setting your key switch back one notch like most traditional mowers. Minor inconvenience really, and I'm sure they do it for safety/liability reasons.
The Cub Cadet CC30E is meant for yards 1 acre or less. You should be able to cut that on one charge as long as the grass isn't super high.
Quality of Cut
Everyone seems quite happy with the quality of the cut. I noted one user who said it was so smooth they had to keep checking to make sure they weren't mowing the same grass over and over.
There is a mulching kit included with this mower.
The Cub Cadet CC30E Mower features one blade under the 30″ 12 gauge stamped steel deck.
Also of note is there are no anti-scalping wheels on this mower, another sign they did not intend for it to be used on much more than a gentle yard.
There are 5 adjustable positions with an easy lift lever between 1.5″ to 4″.
Accessories
There are a ton of accessories available for this mower and it comes with the typical pin garden hitch already installed.
Here are just some of the available attachments:
Bagger 19A30014OEM
Cub Cadet 1000lb Dump Cart 19B40026100
Cub Cadet Spreader 19A40039100
44″ Lawn Sweeper 19A40038100
Cub Cadet Poly Dump Cart 19A40035100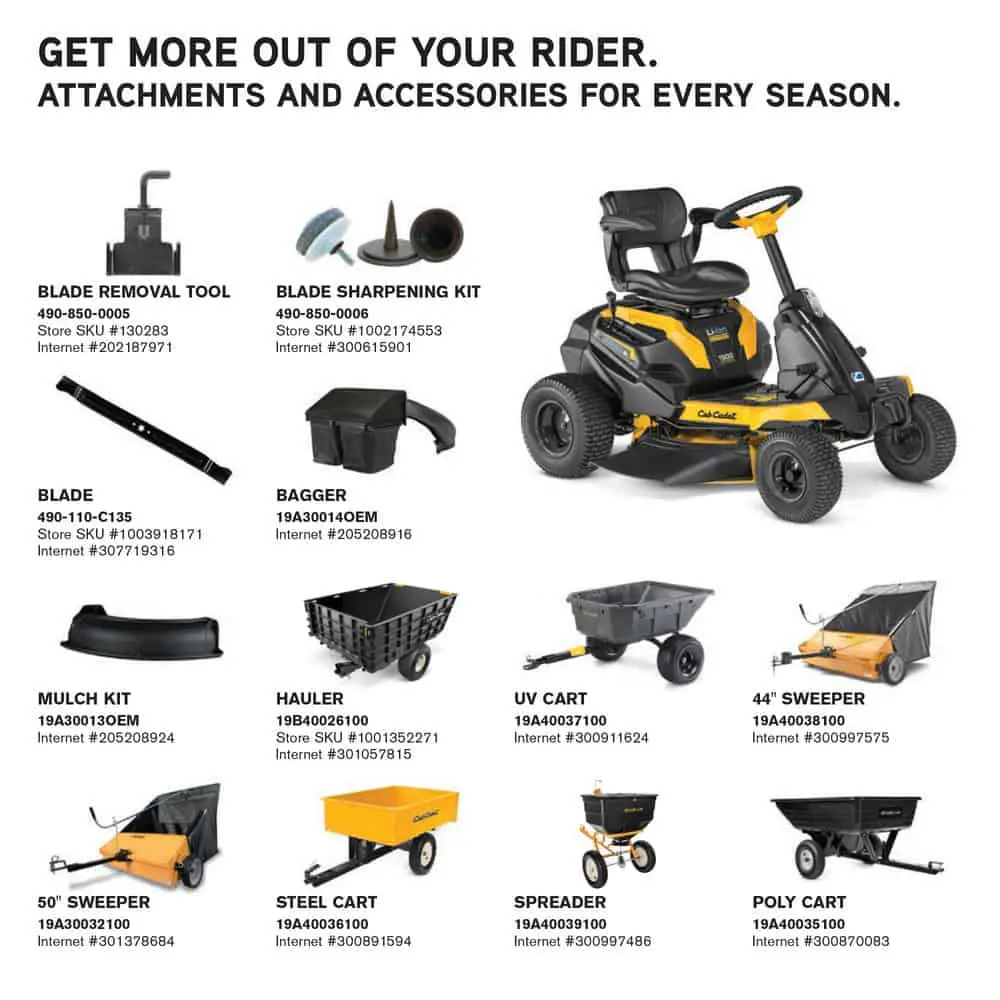 Conclusion
If you want an eco-friendly mower without the hassle of normal mower maintenace (gas/oil/spark plugs/belts/etc) and have a fairy small and level yard with a lot of obstacles I think this would be a pretty good mower.
The price is not bad at all for a Lithium Ion battery setup. You get much better run time, faster charge times and more longevity. The power provided is quite adequate for a mower of this size.
Affiliate Disclaimer – if you decide to purchase a mower based on my review, I do get a small piece of the sale. It helps to keep the lights on around here. I am very passionate about lawns and mowers and offer my unbiased review towards everything that goes on this site. I research several pages, specs, videos, forums and other reviews of each mower before I post about it so you don't have to. If I wouldn't buy it myself, I wouldn't recommend it to you either.

– Brandon