Overview
This Yard Machines 20″ push mower (made by MTD) is about as bare bones as you can get (outside of a Reel mower.) Just add the oil (included) and gas (not included) and you're ready to go.
Engine
The mower is equipped with a Briggs and Stratton 125cc engine. Here are some maintenance items to consider: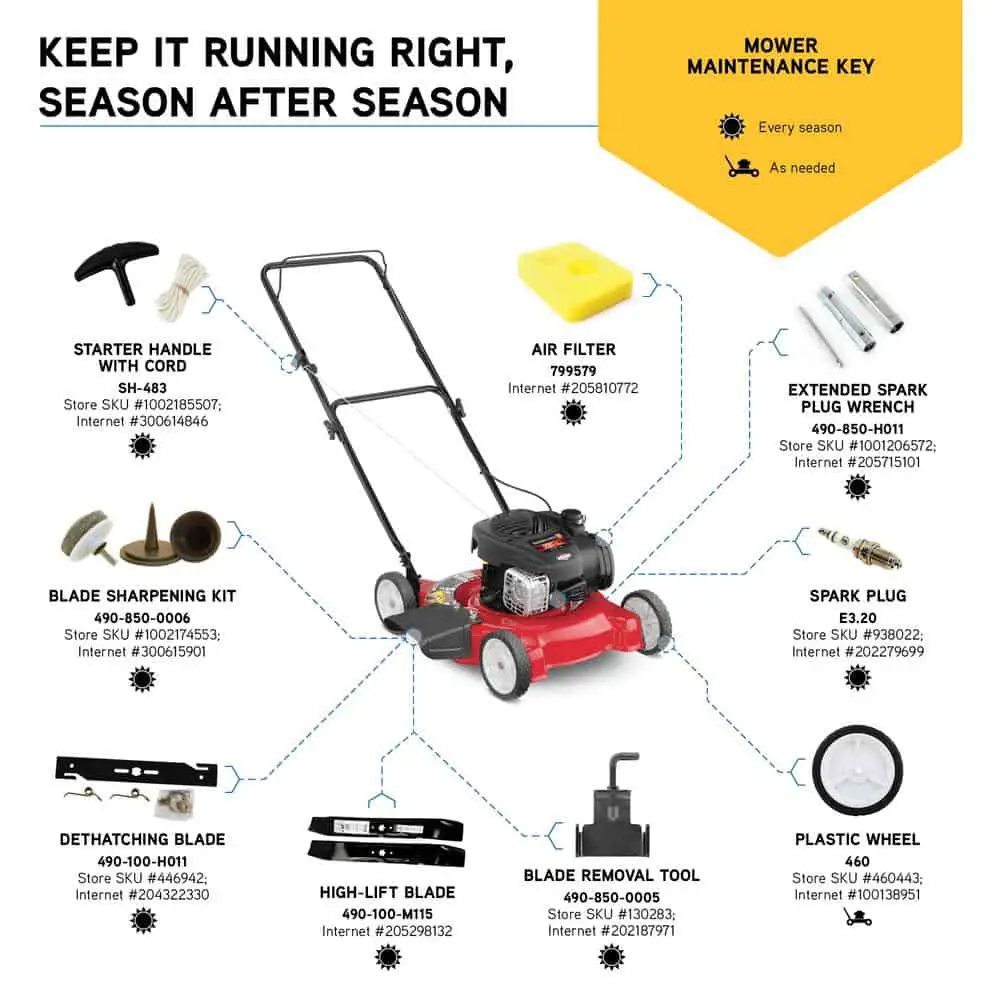 Click here to read the full warranty for the Yard Machines 20″ Push Mower
Service Manual for Yard Machines 20″ Mower
Final Thoughts
The cutting height adjustment is as basic (and about as poor) as you can get. You have to remove the wheels and choose between a different pin height to set the deck. You can choose between a range of 1.25″ and 3.75″ in cutting height. This is NOT a self propelled mower (at this price point how could you expect it to be?)
It is easy to start and reliable. It is side discharge only so if you're looking to bag your clippings you will have to upgrade to a different model.
Overall, I think this is a could starter mower or a mower for someone with a small yard. It is portable which also means it will store away easy if you don't have a lot of space.
If you don't care about adjusting the cutting height without some hassle, and chances are you will be just fine with the setting right out of the box, then for the price I think this is a good mower.
Affiliate Disclaimer – if you decide to purchase a mower based on my review, I do get a small piece of the sale. It helps to keep the lights on around here. I am very passionate about lawns and mowers and offer my unbiased review towards everything that goes on this site. I research several pages, specs, videos, forums and other reviews of each mower before I post about it so you don't have to. If I wouldn't buy it myself, I wouldn't recommend it to you either.

– Brandon