Quick Navigation:
Overview
Toro has made their name as one of the premier zero turn brands, let's see if this mid-tier zero turn model can hold up to that high standard.
100%
Handling/Performance
Riding Comfort
What can you really say about this model zero turn mower? It has a regular high back seat on it that isn't uncomfortable but will also not absorb any bumps or beatings you take while mowing at any sort of speed.
This suspension seat will make all the difference in the comfort of your ride. It is pricey (around $500) but worth every penny if you have rough land or a bad back. 4 Nuts hold on the old seat and this will swap within minutes to this Toro mower. It has the rider safety switch included in it also.
You will sit up a little bit higher, but it isn't too bad. You can mow some rough terrain now and when you're done it won't feel like you're going to piss blood from the beatings your kidneys took.
Engine
The engine in the Toro Timecutter SS5000 is a Toro branded "commercial engine." This is a relatively new engine that Toro has had designed and manufactured specifically for their mowers (some Exmark mowers use this exact engine also branded as an Exmark instead. Below is a video (by Toro) giving an in depth look at the 24.5 HP engine and also comparing it with the Kohler 7000 series engine (24 HP 725cc) and a Kawasaki FR691V (23 HP).
I do like what Toro is trying to do here. They've made some things easier. The air filter is easier to remove/change. The oil drain is a quick drain system that seems to be gaining popularity where the tube is snaked through basically an S shaped bracket to hold the tube upward. When you want to drain the oil you just pull it down and start draining. Great.
The 24.5 HP Toro engine uses a 2 barrel carburetor and the choke system on it uses vacuum to open the choke after starting so the engine doesn't get flooded in case the operator forgets to shut the choke off. You can tell they've put a lot of thought into designing this engine with some improvements to the heads, pistons and rods, etc.
This is where they lose me though. They're using a nylon gear on a steel crankshaft. I know that nylon gears have improved a lot over the years but this is still a very curious choice by the engineers. Also, this engine is made in China, so keep that in mind.
There is a 3 gallon fuel tank on this mower which is less than I'd like to see but pretty standard for a zero turn of this size in this price range.
All in all I like the engine, the cam gear makes me slightly nervous but they do back it up with a 3 year/unlimited hour residential warranty and a 3 year/300 hour commercial warranty. Time will tell on this engine but so far I have not seen any complaints.
There is no hour meter by default on this machine, but you can add one for $58. Click here for hour meter.
Click here to read the full warranty for the Toro Timecutter SS5000
Service Manual for the Toro Timecutter SS5000
Mower Handling and Performance – Hills/Rough Terrain
WARNING: You should always follow the manufacturer's recommendations for mowing hills, usually that means don't mow a slope over 15 degrees. Try to attack the slope in an up and down manner instead of side to side (if you have to lean halfway off the mower to feel stable you're probably exceeding recommendations!)
The Toro Timecutter SS5000 zero turn mower has three speed settings (called their Smart Speed System) that offer a mowing mode (max forward speed of 7mph), a tow mode (with a max speed of 5mph) and a trim mode (with a max speed of 3mph.) You can also mow in reverse at a max of 3mph.
Power is sent to the 18″ rear wheels via a Hydro-Gear ZT2200 transmission with 13″ wheels sitting up front. This is a lower end transmission but definitely still a good quality part. For example, the Toro 60″ Zero Turn I reviewed has the ZT-3100 transmission in it.
Anyway, with the 24.5 HP engine you should have zero trouble with hills and slopes. The 708lbs is going to provide good stability. I would have liked to have seen some 20″ tires on here but I won't complain too much about the 18″ tires.
Same thing applies with most zero turns that if you mow any sort of ditch, especially if it is wet, you'll have traction and control issues and probably slide a bit. Just be careful.
This mower is ideal for properties 2 to 4 acres in size. Width of this mower with the chute down is 54.6″ and 63″ with chute down.
Quality of Cut
I think Toro's usually have exceptional cuts and a lot of that reason is that on a mower like this you have three 17.5″ blades turning at 18,330 ft/m blade tip speed. That is basically the same speed that Toro commercial mowers operate at. The 50″ deck is stamped 12 gauge steel and is 4″ deep. In the front of the deck you have 3 anti-scalping wheels to help protect your lawn.
A lever on the operator's right side adjusts the cutting height in 7 different positions ranging from 1.5 to 4.5″ (1/2″ increments.)
Accessories
There is a wealth of accessories that you can get with your Toro Timecutter SS5000 mower. Not the least of which is a bagger attachment.
You can view the many other accessories from Toro in the image below. Also, it has a standard mower hitch so you can pull any aftermarket attachments also.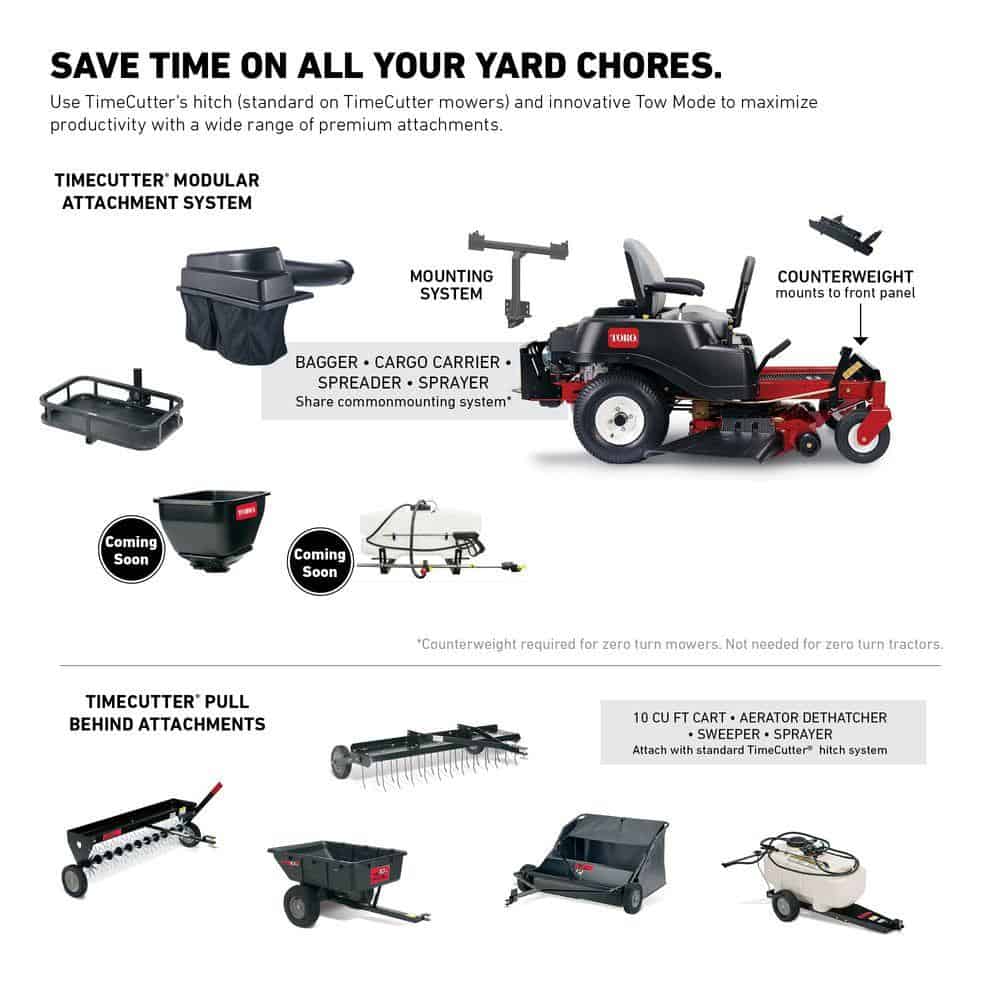 Conclusion
This is a really well built mower. Any time you can get a zero turn of this quality for under 3 grand, I think you're doing pretty good. However, the first thing I would do to the Toro Timecutter SS5000 is put the Toro suspension seat on it. That thing is worth its weight in gold, but it does bump the overall price of this mower over 3 grand. So, something to consider if you are looking at price alone. I did knock a star off the price rating for that aspect.
If you are just mowing flat ground, then maybe the suspension seat is of no concern to you and you've just gotten an even better deal.
Affiliate Disclaimer – if you decide to purchase a mower based on my review, I do get a small piece of the sale. It helps to keep the lights on around here. I am very passionate about lawns and mowers and offer my unbiased review towards everything that goes on this site. I research several pages, specs, videos, forums and other reviews of each mower before I post about it so you don't have to. If I wouldn't buy it myself, I wouldn't recommend it to you either.

– Brandon